Best Things to Do in Bratislava
Tips from Our Local Guides
Best Things to Do in Bratislava
Bratislava with its compact and picturesque Old Town, interesting setting by the Danube river and the Little Carpathian mountains, has a relaxing atmosphere somehow different from its neighbouring capitals as Vienna, Budapest or Prague. Bratislava offers enough things to do for a day, two, or three. If you add some day trips to the surrounding region, it is easy to spend a week or more.
Museums and galleries in Bratislava
City view spots in Bratislava
To get the best panoramas of Bratislava, walk up to the Bratislava Castle and the terrace of the Slovak Parliament nearby. Great city views are from the Slavín WWII Memorial as well. It is a pleasant uphill walk through the historic villa neighbourhood, or take a trolleybus no. 207 or 203 from Hodžovo Námestie to Búdková (from there it is 10 minutes panoramic walk). Other cool spots are the UFO Observation deck at the SNP Bridge (8,90€ entrance fee) and Veža Restaurant at the Kamzík TV Tower. To get to Kamzík, take a taxi or trolleybus no. 203 to Koliba and then walk 40 minutes across the Carpathian forest.
Great half-day trip to enjoy both history and nature is the legendary Devín Castle, located only 10 kilometres westwards from the Bratislava Old Town. Walk up to the castle, enjoy the views to the Danube and Morava rivers, stroll along the river promenade, see the Iron Curtain memorials and taste local currant wine at the wine cellar. To get there, take a bus no. 29 from the city centre.
If you prefer a guided experience to Devín, consider our Devín Castle Tour, possibly with hiking or wine tasting extensions.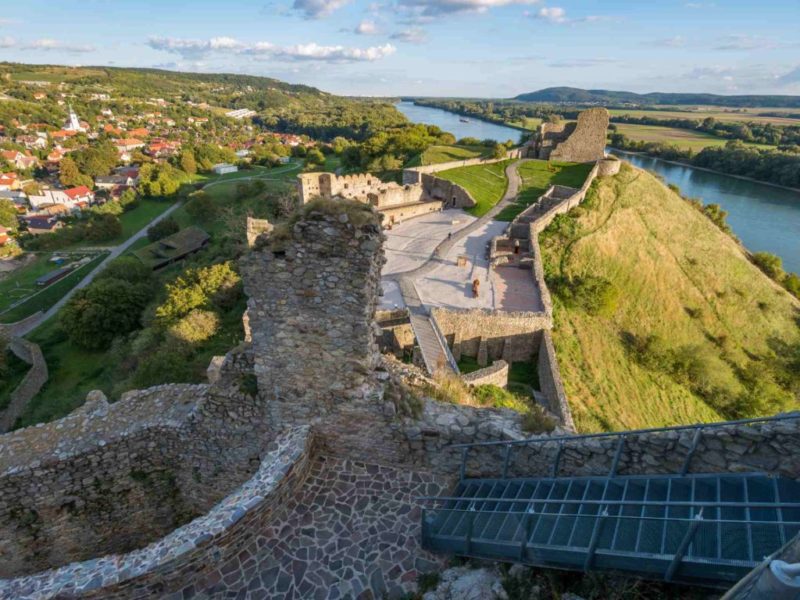 Green spaces to chill out
Bratislava has several nice city parks and abundance of recreational forests in Carpathian mountains and lowland forests by the Danube river. The closest green spots with walking distance from the city centre are Presidential garden, Medical garden and Sad Janka Kráľa Park. More natural and hilly is the Forest Park (Horský park), easily reachable by trolleybus no. 203 or 207, or by walk along the Hlboká cesta.
For even bigger forests, head to the city forests of the Little Carpathians – either to Železná studienka (trolleybus no. 207 or 212 from Hodžovo námestie to the last stop), or to Kamzík (trolleybus no. 203 from Hodžovo námestie do Koliba). There is also a chairlift up to Kamzík from Železná studienka (currently running Thu – Sun, check for information).
From Devín, follow blue or yellow trail to the Sandberg sand rock (nice walk with great views along the Morava river) , or red trail up to Devínska Kobyla (steep in parts). To enjoy beauty of the Danube lowland forests, visit the park behind the chateau in Rusovce (bus no. 90 or 91 to Kaštieľ Rusovce).