Visit the legendary Devín Castle ruin near Bratislava. Explore the former Iron Curtain border zone with Austria with remnants of the barbed wire and a WWII bunker. Extend the tour by the hike to the sand rock (View Hike, +2 hours), abandoned Cold War military base (Army Base Hike, +4 hours), or local Wine Tasting (+2 hours).
Why to visit Devín castle and its surroundings
Devín is a picturesque place located 10 kilometers west of Bratislava city centre. Devín castle ruin proudly standing above two rivers is the site being a witness of history since thousands years ago. Devín has a tradition of making (not only currant) wine, steppe-like ecosystems with natural sand rocks, abandoned military base hidden in the Carpathian forests – all this creates a must-do destination during your stay in Bratislava.
Easily the most unique tour I have been on ever. You can only see so many churches, castles and palaces. Seeing the recent socialism past was a very different and eye-opening trip through Bratislava. This is what Bratislava is all about. Truly enjoyable and overwhelming.
"Fabulous tour!"
Chris, TripAdvisor review
This was without doubt the best guided experience I have had to date. Juro did an fantastic job – both knowledgeable, enthusiastic and able tailor the experience to us. I give my highest recommendations to Authentic Slovakia.
"Best guided experience to date"
Rune, TripAdvisor review
It was a fascinating trip through this dystopian architects' playground, and a really interesting look at how a small city like Bratislava has coped with the onslaught of communism and the effects of sudden urbanisation and centralized planning.
"Absolutelly brilliant!"
Marcus, TripAdvisor review
Details
Duration: 2,5 hours
Availability: all year round Tu-Su, not on Mondays (Devín Castle closed)
Included:
Transportation by car, English-speaking guide, entrance fee to the Devín Castle, soft drink
Meeting point and time: according to agreement
100€
(by 1 guest)
55€
(by 2 guests)
40€
(by 3-4 guests)
35€
(by 5+ guests)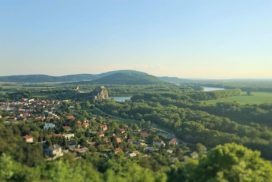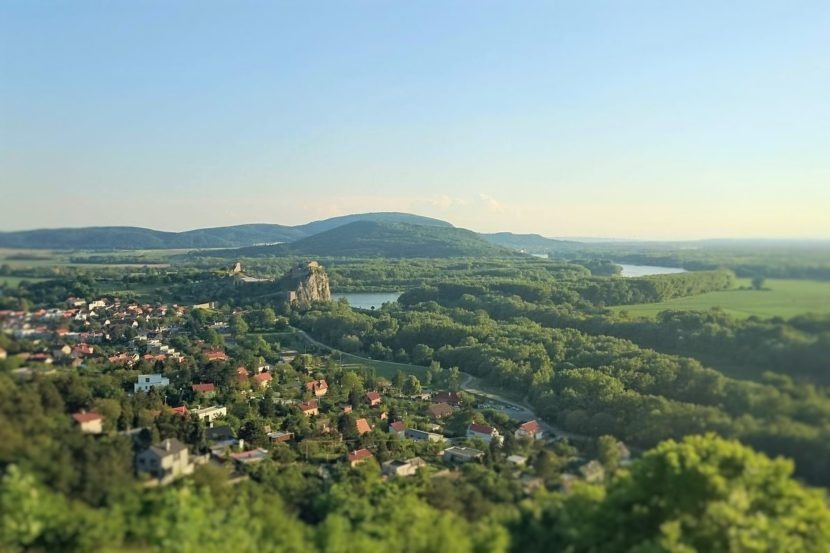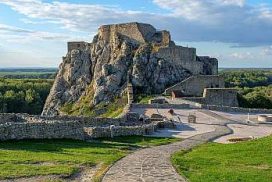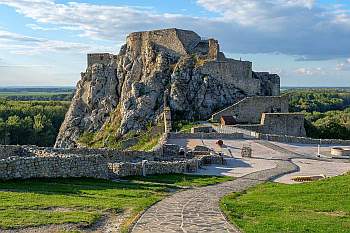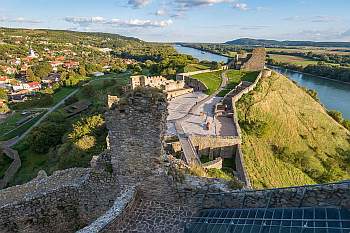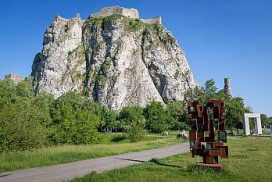 Tour program
|     Our English-speaking guide picks you up by car at your accommodation or in the city centre and drives along the Danube river to Devín (ca 20 minutes)
|      Visit of the iconic Devín castle upon the rock above the rivers
|      Drive along the foothills of Carpathian hills with sand rock
|      Walk across the "Chuck Norris" bridge across the Morava river to Austria
|      Explore the open-air Iron Curtain museum with barbed wire fence and WWII bunker
|      Drive back to Bratislava city centre
Note: In case of really bad weather (ice, snow, heavy rain etc.), the Devín Castle is closed. From Bratislava to Devín, we take you by a regular modern car. On demand and upon availability, we can take a retro Škoda car instead.
Extensions
Need more? Prolong the 2-hour Devín Castle Tour according to your preferences by one or more of the extensions. Enjoy hike with splendid views to the sand rock or even to the abandoned Cold War military base. Taste Slovak wines in an authentic wine cellar with a local producer.

View Hike
+2 hours, 15€ per person

Army Base Hike
+4 hours, 30€ per person

Wine Tasting
+2 hours, 25€ per person
View Hike
Hike up to the sand rock Sandberg with amazing views to Morava river, Devín Castle and Austrian villages. Relatively easy 5-kilometre walk on unpaved paths. Pure nature, off-the-beaten-track!
+2 hours, 15€ per person

Army Base Hike
Hike from Devín to the sand rock Sandberg, up to the abandoned Cold War-era Czechoslovak military base and back to Devín (ca 4 hours). Higher difficulty - 10 kilometres walking on unpaved paths with steeper parts. Home-made snack lunch provided!
+4 hours, 30€ per person
Wine Tasting
Taste Slovak wines in an authentic wine cellar made by two generations of local producers. Mr. Vlček makes traditional black and red currant wine, typical for Devín. His grandson Juro Cenký offers you his delicious white grape wines, typical for Little Carpathians.
+2 hours, 25€ per person
Request Devín Castle Tour