Village Pub Crawl: Drinking Like a Slovak
Tired of the city rush but still longing for a drink? Enough of ordinary city pub crawls? Join this unbeatable experience and get under the skin of authentic Slovaks. Visit authentic Slovak village and try pub crawl as never before. You drink, we drive!
Why to go on Village Pub Crawl
Get deeper into the Slovak soul, talk and listen about it. Four villages, four local pubs, at least four drinks. We visit distinctive region Záhorie, north-west of Bratislava. One drink in every village per person and a traditional pub snack is included.
Difficulty: Easy – you should manage to drink four beers (or other drinks), right? Please note that pubs visited on this tour are authentic – sometimes can be smoked, sometime sleepy, sometimes noisy, sometimes football or card atmosphere can prevail. We take it as it comes – this is to see real life in local villages.
PRICE PER PERSON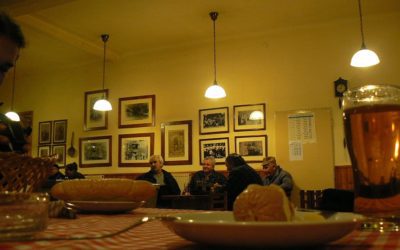 1 guest / 150€
2 guests / 80€ per person
3 guests / 60€ per person
4-7 guests / 50€ per person
Request Village Pub Crawl
Urban adventure by car (Czechoslovak 1970-1990's Škoda or modern or van), off the beaten track and 20th century history
Cycling tour and journey in time – Old Town, communist-era district and modern developments.
Wine tasting with local producer in the vineyards of Little Carpathians near Bratislava.
Walk with us beyond the tourist zone and taste workers' cuisine in retro spots with locals.