Let us proudly present the vehicles of Authentic Slovakia Tours. These vehicles are being used during our Post-Communist Bratislava Tour (and can be used also for Devín Hike and Drink Tour) according to their technical conditions and availability. Of course we focus on authentic Czechoslovak brand Škoda. Our 1970's - 1990's models provide you all the comfort you could expect from (post-)socialist vehicle.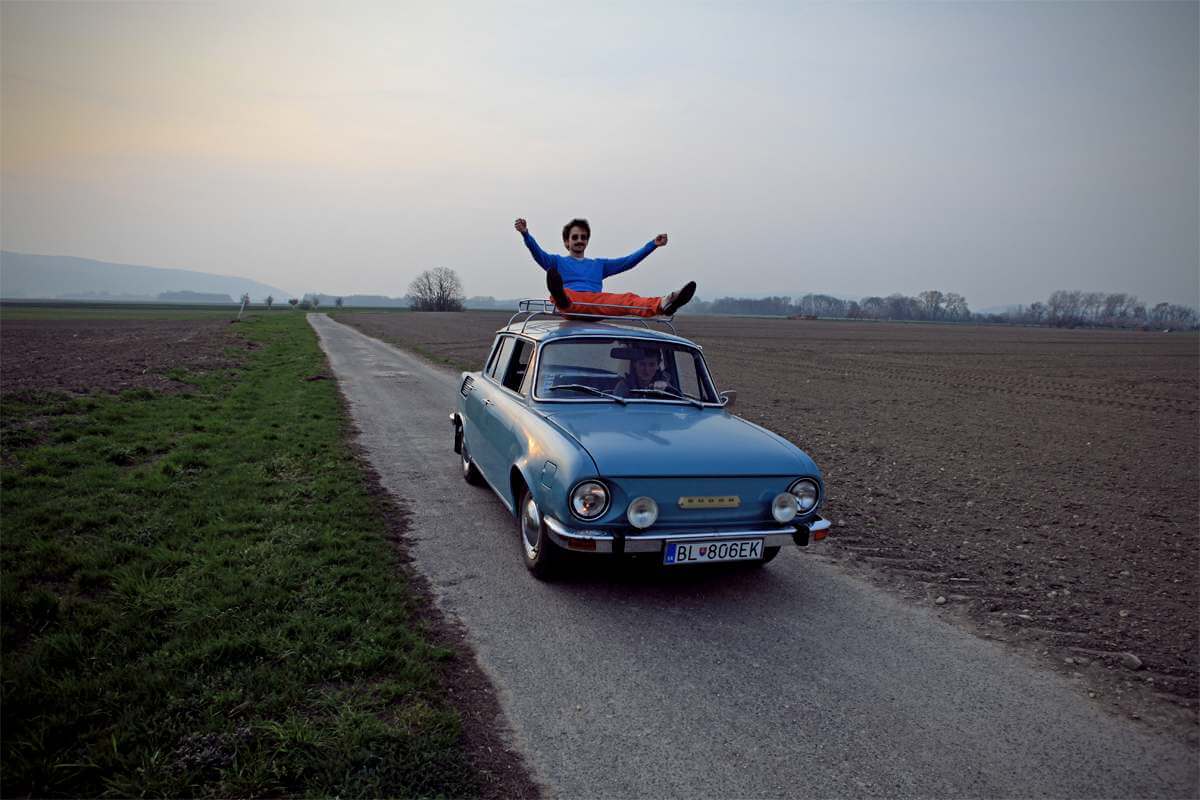 Škoda 100 | Modrášek
Small but beautiful
Our blue angel. Modrášek makes people smile. Its innocent colour and charming design are well combined with classy original artifical-black-leather interiour. Roof rack is ready to take your luggage. But the real adventure starts, when you start the 1-liter engine.  No, it is not a truck, it is Škoda model 100 produced from 1969 - 1977 in Czechoslovakia. Typical communist middle class car providing joy for the masses.
Škoda 110 L | Belášek
Family heritage first!
Belášek is a family heritage of Brano and Peter. Our grandfather used this car since 1974 in the rural region of Myjava nearby Czech border. This Škoda model 110 L experienced several journeys to former Yugoslavia and communist Bulgaria. "L" stands for "luxurious" - slightly bigger engine (1,1 litre), bigger steering wheel, ashtrays at the back seats, classy black interiour. Škoda 110 R Coupe version became famous as a successful sport car with catchy design, too.
Škoda Favorit | Valér
Revolting kid
Škoda Favorit is a true kid of a revolution. Produced between 1988 - 1995, it experienced the 1989 Velvet Revolution (collapse of the communist regime) and 1993 Velvet Divorce (partition of Czechoslovakia). Designed by Italian Bertone, technical details improvemed by Porsche and in finally, in 1991, privatized by Volkswagen. Very cool!
Škoda Favorit | Partizán
Blue arrow
The most modern and the most luxurious car in our fleet, born in 1993, raised in the centre of the WWII Slovak National Uprising Banská Bystrica. As old as the Slovak Republic, Partizán is one of the last Škoda Favorit models before VW technology started to be used. Cosy interior, heating that works, functioning radio, seatbelts, possibility to open windows at the back seats - for those who ask for more!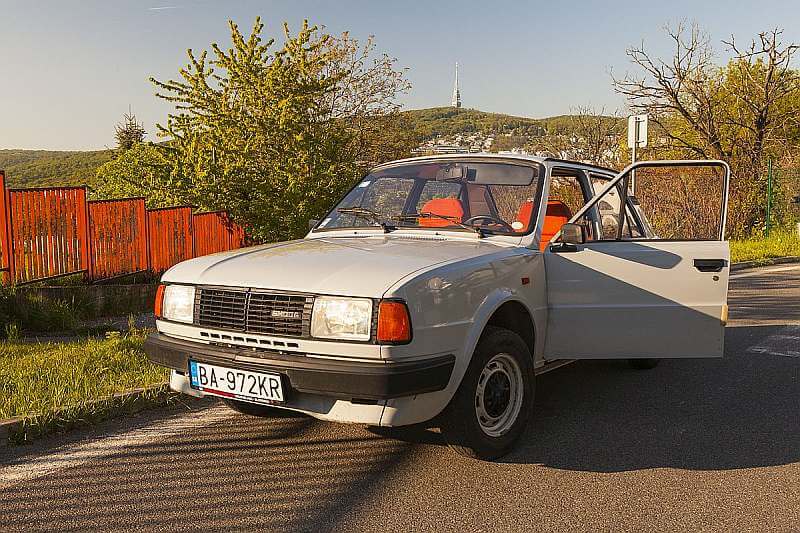 Škoda 120 | Šedička
Grey Lady, 1988
The colour of this car expresses the spirit of the communist era. This beauty was born just 1 year before the fall of the Iron Curtain - 1988. Those years you hardly found another brand on the local parking places than Škoda. Good news, this car has seatbelts and opening windows also at the back seats!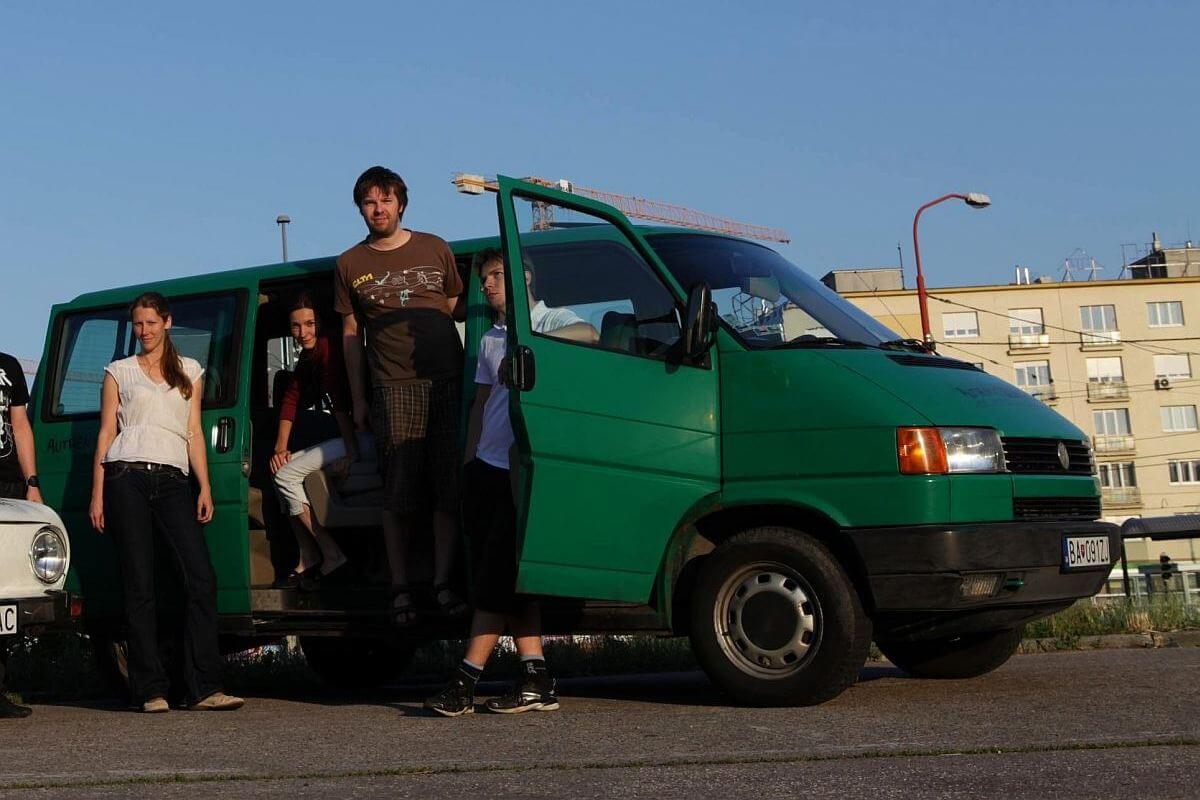 Volkswagen T4
Post-socialist imported dream, 1992
This legend of German transport in 1990's was our first vehicle and still serves well today. Green Volkswagen T4 minivan can comfortably carry 8 passengers and allows good views to the post-communist landmarks behind the windows. Produced in 1992, it is unbelievable that T4 Caravelle is the same age as Škoda 1203.