Bratislava Post Socialist City Tour
Off-the-beaten-track experience
Funky retro tour in a legendary 70's Czechoslovak car Škoda or crappy 8-seater van Škoda 1203 through the off-the-beaten-track places of the communist past as well as recent transformations in Bratislava.
Visit a vast concrete housing estate area, the Soviet monument Slavín, abandoned factories, riverside developments, 1930's bunker line, the former Iron Curtain border zone and loads of communist architecture. Local insight guaranteed!
Tour brings alive the story of Bratislava in the 20th century - political changes, town's location on the border, contrasts between rich and poor, development of the society, architecture.
Please note that in some cases (winter conditions, car repairs etc.) we can not guarantee the retro car, but go with our funky green 1992 VW Caravelle or other post-socialist / capitalist car 🙂
Easily the most unique tour I have been on ever. You can only see so many churches, castles and palaces. Seeing the recent socialism past was a very different and eye-opening trip through Bratislava. This is what Bratislava is all about. Truly enjoyable and overwhelming.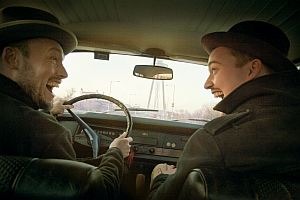 "Fabulous tour!"
Chris, TripAdvisor review
This was without doubt the best guided experience I have had to date. Juro did an fantastic job – both knowledgeable, enthusiastic and able tailor the experience to us. I give my highest recommendations to Authentic Slovakia.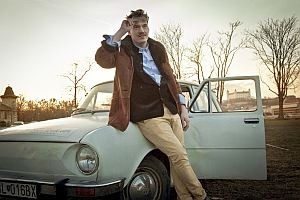 "Best guided experience to date"
Rune, TripAdvisor review
It was a fascinating trip through this dystopian architects' playground, and a really interesting look at how a small city like Bratislava has coped with the onslaught of communism and the effects of sudden urbanisation and centralized planning.
"Absolutelly brilliant!"
Marcus, TripAdvisor review
Sites covered during the tour may vary a bit, but you will see most of these:
|     the first prefabricated socialist appartment block in Czechoslovakia (1955) as well as the largest socialist housing project in Europe, Petržalka
|     abandoned and destroyed industrial objects (textile factory, brewery) as symbols of post-industrial transformations, new capitalist developments
|     communist architecture (socialist realism, functionalism, brutalism)
|     political objects: Soviet memorial Slavín, diplomatic 1970's hotel, 1980's parliament, villas of former communist leaders
|     ride under the controversial ufo-like SNP bridge, causing destruction of the Jewish district
|     1930's Czechoslovak fortification system, bunkers built against the potential Hitler's invasion
|     former Iron Curtain area, border between communist Czechoslovakia and Austria
What is more in 4-hour tour?
More time to answer open questions, deeper insight and more sites covered from above mentioned, drink (beer or kofola) at authentic local pub.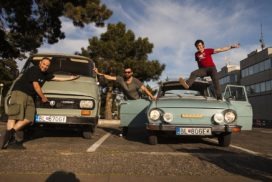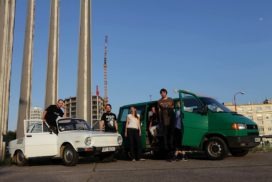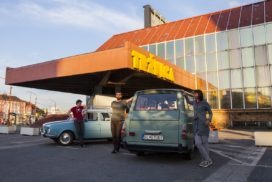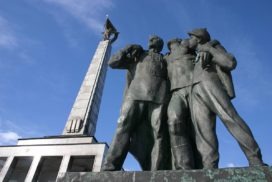 Details
Duration: 2 or 4 hours
Availability: all year round
Included:
Vintage 1970's Škoda car (2-3 participants) or minivan (4-7 participants) transport, guide, authentic biscuit and drink
Meeting point:
Namestie SNP (Square) or your accommodation/station
Time: according to agreement
Price per person
2-hour tour
€32 (2 participants)
€27 (3 participants)
€22 (4-7 participants)
4-hour tour
€49 (2 participants)
€39 (3 participants)
€32 (4-7 participants)
Request Bratislava Post Socialist City Tour