Carpathian Castle Ruins Tour
Slovakia is a country with unexpectedly high density of castles and castle ruins. Hundreds of them are hidden in Carpathian forests, built as a protection against Tatar invasions in 13th century, serving for the next 500 years.
Off-the-beaten-track places without souvenirs, but with special medieval atmosphere instead. We offer the best selection of the ruins you can see during one-day trip from Bratislava.
Short tour (5 hours): 2 castle ruins explored. A) Pajštún: proudly standing above Little Carpathian forests with splendid views, destroyed by Napoleon. 1 hour hike included. B)  Plavecký castle, in operation 1256 - 1703, views to forested Záhorská lowland. Again, 1 hour hike included. Pleasant landscape and drink in local pub included, too.
Easily the most unique tour I have been on ever. You can only see so many churches, castles and palaces. Seeing the recent socialism past was a very different and eye-opening trip through Bratislava. This is what Bratislava is all about. Truly enjoyable and overwhelming.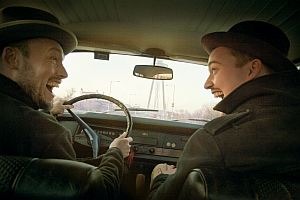 "Fabulous tour!"
Chris, TripAdvisor review
This was without doubt the best guided experience I have had to date. Juro did an fantastic job – both knowledgeable, enthusiastic and able tailor the experience to us. I give my highest recommendations to Authentic Slovakia.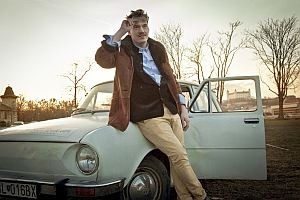 "Best guided experience to date"
Rune, TripAdvisor review
It was a fascinating trip through this dystopian architects' playground, and a really interesting look at how a small city like Bratislava has coped with the onslaught of communism and the effects of sudden urbanisation and centralized planning.
"Absolutelly brilliant!"
Marcus, TripAdvisor review
Long tour (10 tour):
4 castle ruins explored.
|     Dobrá Voda, gothic ruin in pine tree forest, after fire in 1762 serving as a prison for half a century. 1 hour walk.
|     Čachtice, seat of the cruel countess Bathory, taking bath in the blood of young virgins. Amazing views to surrounding rural landscape.
|     Branč castle, fired by Turks in 18th century, located in Myjava region rich for folk culture.
|     Plavecký castle, in operation 1256 - 1703, views to forested Záhorská lowland. 1 hour hike included.
During the long tour, we have authentic lunch in local restaurant included.
Please note: on this tour, we do not use our retro cars, but we go by comfortable (mostly air-conditioned) cars - VW, Peugeot, BMW. This is due to your comfort and safety.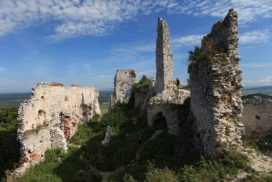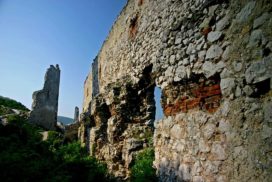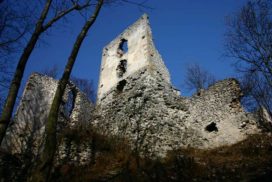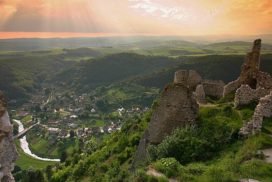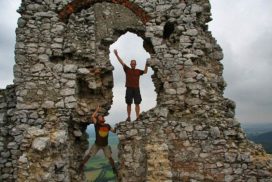 Details
Duration:
5 hours (short)
10 hours (long) 
Availability: all year round
Included:
Transport, guide, snack and drink in local pub
Meeting point:
Your accommodation in Bratislava at 8:00am (long) or 9:00am (short) or according to agreement
5 hours
€55
(2 guests)
€45
(3 guests)
€37
(4-7 guests)
10 hours
€85
(2 guests)
€60
(3 guests)
€50
(4-7 guests)
Request Carpathian Castle Ruins Tour